daily routines
learning about when important people eat breakfast
welcome to wild tortoise, let's talk about daily routines.
in the midst of pandemic/recession/uprising, i've found myself listlessly swirling in idle thoughts or lulling around my house rampantly snacking.
to get out of this funk, i decided to start reading daily rituals: how artists work by mason currey to learn more about the rhythms of the artist's daily work-life. while hoping to glean inspiration from the lives of accomplished creatives, i'm instead experiencing a strange sense of satisfaction that comes with knowing idiosyncrasies such as georgia o'keeffe's breakfast order.
in this post, i'm honing in on the routines of famous artists & writers.
---
MAYA ANGELOU (1928 - 2014)
"i try to keep my home very pretty and i can't work in a pretty surrounding. it throws me," — maya angelou
maya angelou. courtesy of time.com.
5:30 a.m. — she wakes up
6:00 a.m. — she drinks coffee with her husband.
6:30 a.m. — angelou commutes to work. she keeps a hotel room where she can go to write.
7:00 a.m. - 2:00 p.m. — she works until 2 in the afternoon. her work space is complete with a dictionary, a bible, a deck of cards, and a bottle of sherry.
2:00 p.m. — she returns home
2:30 p.m. — she reads over what she has written that day
3:00 p.m. to bedtime — angelou showers then prepares dinner. her and her husband eat dinner and drink together. after dinner, she reads her work out loud to her husband. he never comments. she doesn't invite comments from anyone except her editor. she listens for "the dissonance" herself and fixes it in the morning.
---
HENRI DE TOULOUSE-LAUTREC (1864-1901)
"i expect to burn myself out by the time i'm forty," — henri de toulouse-lautrec (he died at 36)
henri de toulouse-lautrec. courtesy of brittanica.com.
early morning — print lithographs
late morning — head to a café for lunch and several glasses of wine
early afternoon — he returns to his studio to sleep off the wine and then wakes up to paint through the late afternoon
late afternoon — if there were visitors, toulouse-lautrec would prepare a few rounds of his infamous cocktails. rumor has it that he was obsessed with "american mixed drinks." one of his creations was called the "maiden blush," which involved a combination of absinthe, mandarin, bitters, red wine, and champagne.
evening — he eats dinner, then has even more wine, and gets ready for another night out on the town.
nighttime through the wee hours of the early morning — toulouse-lautrec claimed to do his best work after hours. he walked the streets of Paris at night, setting up his easel in cabarets and brothels. after a long night of drinking and sketching, he would soon arise again for another day of work and revelry.
---
GEORGIA O'KEEFFE (1887 - 1986)
"the morning is the best time, there are no people around," —georgia o'keeffe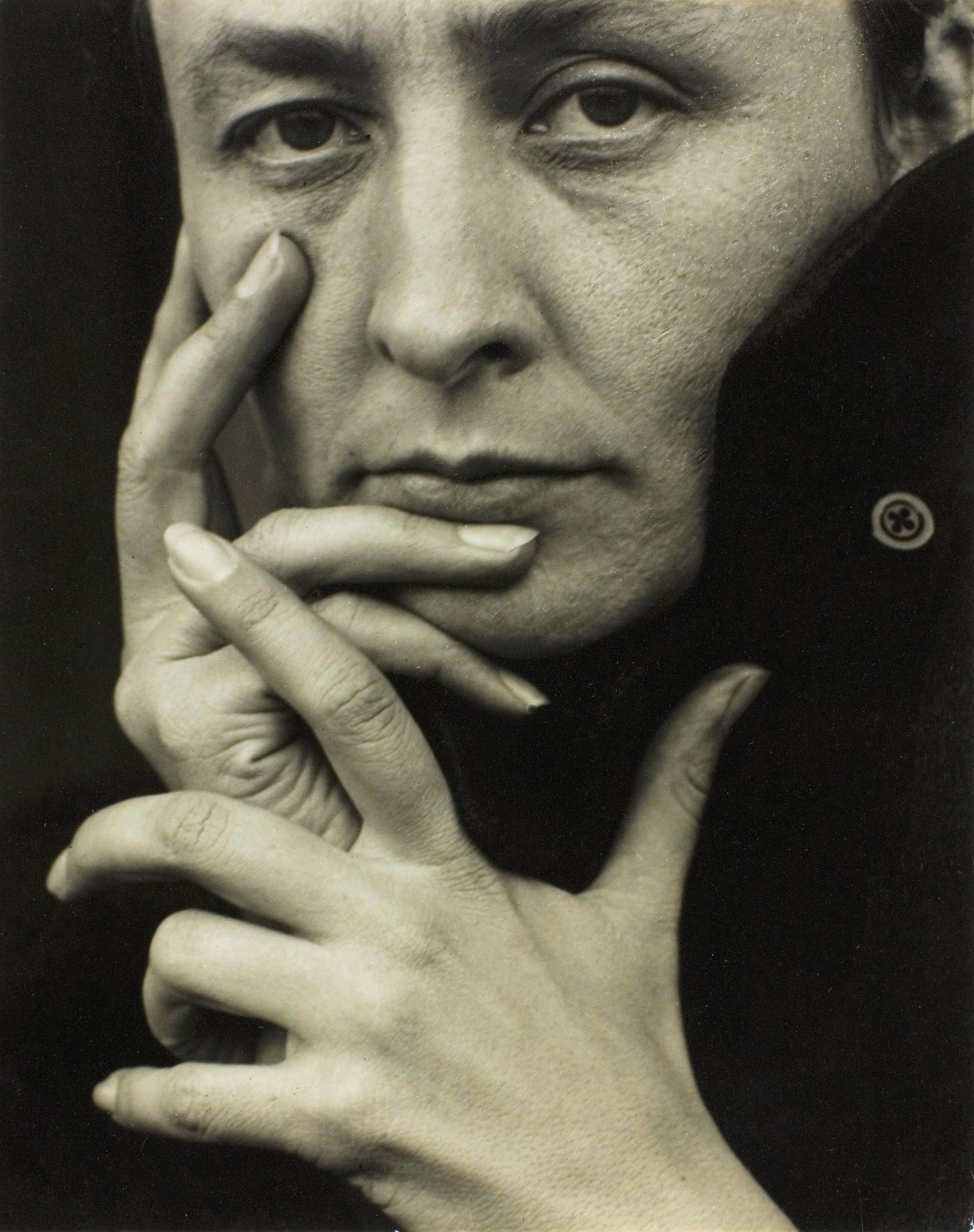 georgia o'keeffe. courtesy of wikipedia.com
dawn — she wakes up. o'keeffe lights a fire, makes a cup of tea, then sits in bed watching the sunrise.
early morning — she takes a half-hour walk, killing rattlesnakes with a walking stick.
7:00 a.m. — o'keeffe's cook makes her usual breakfast which consists of hot chili with garlic oil, soft boiled or scrambled eggs, bread with a savory jam, sliced fresh fruit, and coffee or tea.
the rest of the morning — she moves to her studio and paints until noon.
noon — lunch.
afternoon — she returns to her studio to paint. on days that she doesn't paint, she spends much of her time in the garden.
4:30 p.m. — o'keeffe takes her last meal of the day at 4:30 p.m. she always finishes her dinner early so she could have enough time to take an evening drive through the new mexican countryside.
---
BENJAMIN FRANKLIN
"i have found it much more agreeable to my constitution to bathe in another element, i mean cold air," — benjamin franklin
benjamin franklin. courtesy of smithsonianmag.com
5:00 a.m. — franklin wakes up and sits in his room without any clothes on for thirty minutes to an hour. he spends this time reading and writing. sometimes, he will go back to bed and allow himself to sleep for one or two more hours.
7:00 a.m. — he will wake up again, make breakfast, and then ask himself "what good shall i do this day?"
8:00 a.m. to 11 a.m. — franklin works.
noon — he reads or looks over his accounts and eats.
afternoon — he works again.
6:00 p.m. to 9:00 p.m. — franklin organizes his space, eats dinner, and then asks himself "what good have i done today?"
9:00 p.m. to 1:00a.m. — "music or diversion or conversation"
1:00 a.m. — bedtime.
---
RICHARD WRIGHT (1908 - 1960)
"i never intend to work that long and hard again," — richard wright
courtesy of oprahmag.com
6:00 a.m. — wright wakes up. he leaves the house soon after to avoid the chaos of the newton children.
until 10 a.m. — he walks to fort greene park in brooklyn, ny to work for the rest of the morning. his writing supplies include a yellow legal pad, a fountain pen, and a bottle of ink.
10 a.m. — he returns to the house to eat breakfast and read his work aloud to jane newton. they would discuss plot developments and argue about the direction of native son.
11 a.m. to 5:00 p.m. — wright works upstairs in his bedroom and types what he had written in the morning. afterwards, he visits the public library or spends time with friends.
5:00 p.m. — he returns to the apartment for dinner. he spends as many as fifteen hours a day working on the manuscript.
---
MARINA ABRAMOVIC
"in my personal life, if i don't have a project, i don't have any discipline... only when i know that i have to do the performance, then i absolutely concentrate on that in a rigorous way," — marina abramovic
marina abramovic. courtesy of pelhamcommunications.com.
in preparation for her 2010 career retrospective at the museum of modern art, titled "the artist is present," abramovic had to train herself to sit motionless in a chair for seven hours a day.
the following routine reflects what abramovic did in order to remain sane during this time:
6:30 a.m. — abramovic wakes up
7:00 a.m. — drinks one cup of water before performance, then one cup of black tea accompanied with a meal of lentils and rice
9:00 a.m. — a car drives abramovic, her assistant, and her photographer to the MoMA
9:00 a.m. to 4:00 p.m. — she remains stationary in a chair in a white gallery room. she makes eye contact with each person who chooses to sit across from her. she says nothing.
4:00 p.m. — she returns home and eats a "light vegetarian meal."
by 10:00 p.m. — bedtime.
throughout the night — drinks small cups of water every forty-five minutes to hydrate herself for the next day.
---
DISCUSSION:
i'm curious about your daily routines. pls talk to me about them / give me advice / flex on me. i made a discussion post here, where we can all talk & you can read about mine. so please click it and comment.
also, check out mason currey's newsletter, subtle maneuvers. all of the info from this post comes from his book so check it out.